Georgia Truck Accident Statistics in 2022
December 19, 2022
With their massive size and ability to operate at high speeds, commercial trucks continue to be among the deadliest threats on the road. Vehicle crashes that might result in minor or moderate injuries in a car vs. car scenario can become much more serious when you replace one of the cars with a semi-truck.

If you're one of the thousands of victims who have been hurt by trucks on Georgia roadways, you're entitled to compensation. Henningsen Injury Attorneys, P.C. hold truck drivers accountable for their lapses in safety and judgment. Call today for a free consultation.
Why Semi-Truck Accidents are More Dangerous
Commercial trucks are much heavier than even the largest personal vehicles. Commercial vehicles are given a gross vehicle weight rating (GVWR). A large truck with a class 7 or 8 rating can weigh 33,000 pounds or more. Comparatively, a mid-size SUV may weigh in the range of 4,000 to 6,000 pounds. What this weight disparity means is that with all other things being equal, the impact from an unladen semi-truck will have five to six times more impact energy than the average car traveling at the same speed.

By law, the total weight of a vehicle cannot exceed 80,000 pounds or 40 tons. Naturally, any additional weight that the truck is hauling adds to the above-described energy. That means a car could potentially experience an impact with a vehicle nearly 20 times heavier. The dangers do not end there, however. Many semi-trucks carry hazardous materials in their loads. Or they are packed in such a way that the parcels could be individual projectiles.
Crash Types in Georgia
Semi-trucks are capable of being involved in the same types of collisions as cars, but because of their large size and the fact that they carry cargo, they can also cause hazards that smaller vehicles are incapable of. For example, a jackknife accident occurs when the trailer begins to veer off course and folds back toward the truck. Additionally, an improperly loaded truck may lose cargo, which could impact other traffic. If a vehicle is not loaded properly, the cargo can shift forward, causing the vehicle to move forward after its stopped.

The following accident statistics are reported by the Federal Motor Carrier Safety Administration's (FMCSA) data. The FMCSA is a division of the U.S. Department of Transportation. These are national statistics from 2020 (2021 and 2022 are not available at the time of this writing) that demonstrate the severity of large truck accident injuries and traffic fatalities, and property damage. 
Property Damage-Only Truck Accident Statistics
There were 310,000 property damage-only crashes in the U.S. in 2020. These statistics include accidents where there were no injuries or people killed.
Impact with Vehicle in Transport – This accounted for 74.3 percent of crashes involving large trucks and other vehicles. There were 230,000 accidents in this category.
Impact with Fixed Object – There were 40,000 accidents between trucks and fixed objects that didn't result in injuries or fatalities. This accounted for 12.8 percent of crashes.
Impact with Parked Motor Vehicle – This resulted in 17,000 accidents for 5.4 percent of the total non-injury accidents.
Other – The remaining 7.5 percent of non-injury accidents were from other causes.
Injury Crashes
There were 101,000 non-fatal accidents with injuries in the U.S. in 2020. Here is the breakdown of those accidents:

Impact with Vehicle in Transport – There were 81,000 crashes between a truck and another vehicle. This comprised 80.6 percent of the injury accidents.
Impact with Fixed Object – There were 10,000 of these types of crashes for 10.1 percent of the total.
Impact with Pedestrian – Pedestrian injuries occurred 1,000 times. This was .5 percent of total injury crashes — presumably since these accidents are almost always fatal. Bicyclists are also included in this category.
Overturn(Rollover) – This accounted for 4.9 percent of all truck accident injuries.
Other – The remaining 3.9 percent of truck accidents with non-fatal injuries resulted from collisions with parked passenger vehicles, collisions with animals, etc.
Fatal Crashes
There were 4,444 fatal truck accidents in the United States in 2020. Here's the breakdown of traffic crash fatalities:

Impact with Vehicle in Transport – This accounted for 71.6 percent of crashes involving large trucks and other vehicles. There were 3,183 of this type of crash in 2020.
Impact with Fixed Object – This type of crash was a distant second to the collision with the motor vehicle in transit category, and it accounted for 10.2 percent of accidents involving large trucks.
Impact with Pedestrian – 452 pedestrians were struck by large trucks in 2020, which comprised 9.6 percent of truck crashes.
Overturn (Rollover) – This accounted for 160 traffic fatalities (3.6 percent of the total).
Other – All other types of truck accidents combined for 5 percent of fatal accidents.
It's important to note that the above information does not include details like restraint use (seat belts), whether either of the vehicles was speeding, the number of occupants, etc.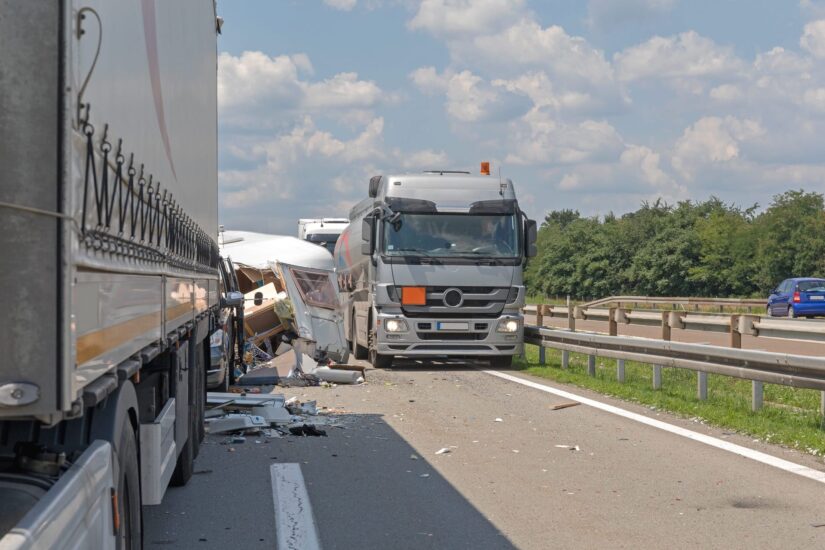 Frequently Asked Questions About Truck Accidents in Georgia
Our law firm represents individuals who have been injured by negligent truck drivers. Truck accident fatalities and injuries are unacceptably high. We do our part to keep the Georgia truck accident highway statistics down by holding trucking companies and drivers accountable for their actions.

The following questions are frequently asked by our clients who have reported injuries in truck accidents or whose family members or loved ones were killed in fatal crashes.
What percentage of Georgia traffic deaths are caused by trucks?
Using NHTSA data from 2016 to 2020, 13.8 percent of our roadway deaths involved a commercial truck.
How are truck accidents different than car accidents?
In addition to the dangers presented by the massive size of the trucks, the trucker driving semis must go through extensive training. In addition, there are laws, rules, and agency regulations that affect the hours and operating conditions of a truck driver.. For example, a truck driver must take a 30-minute break if they've been driving more than eight cumulative hours without a 30-minute interruption. Additionally, they must keep a log book that documents their hours of driving.

All of these factors can impact a case. A truck accident attorney can review all documentation relevant to the time that the operator was driving. 
What if the truck operator was drinking and driving?
The rules regarding DUI are even more restrictive for truck drivers. If the trucker was at fault and they were drinking, it could impact your case.
Why should I involve a truck accident attorney?
If you were injured in a truck accident or you have a loved one who was killed in one, an attorney can get you the compensation you deserve. This includes compensation for your medical bills, lost wages, etc.
Georgia Attorneys for Truck Accident Victims
Trucking results in a higher percentage of fatalities and deaths in Georgia than car vs. car accidents. If you've been injured in a semi-truck accident, contact Henningsen Injury Attorneys, P.C. We represent accident victims and the families of the victims of fatalities on a contingency basis. That means that you don't have to pay out of pocket for our professional legal advice. Call our Atlanta, Georgia office today and tell us what happened to you.